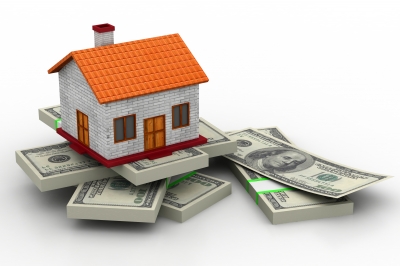 Image courtesy of Renjith Krishnan at
FreeDigitalPhotos.net
.
March 2016
Prudent Money Coach Newsletter
This month's newsletter and for the next few ones, I will be writing about each of the spending categories in Crown Financial Ministries Canada's Percentage Guide. It is part of a continuing series that started with Budgeting Part 1 in January 2016 newsletter and Budgeting Part 2 in February 2016. If you missed those issues, you could find them at PrudentMoneyCoach.com.
There are 12 spending categories in Crown's Percentage Guide.
1. Housing
2. Food
3. Transportation (bus pass, gasoline, car insurance, maintenance and repairs, etc.)
4. Insurance (life insurance, long-term disability insurance, etc.)
5. Debts
6. Entertainment/Recreation (dining out, movies, etc.)
7. Clothing (hats, mittens, accessories, jackets, shoes, underwear, etc.)
8. Savings (emergency fund, vacation fund, etc.)
9. Medical/dental (health insurance, prescription, dental bills, etc.)
10. Miscellaneous (gifts, household items, allowances, etc.)
11. Investments (retirement fund, education fund, etc.)
12. School/child care (school supplies, day care, etc.)
Housing
This month's topic is housing. A common misconception I often hear from my clients and from friends is that housing cost is JUST mortgage or rent, that's it. No, no, my friend, housing cost is everything related to your dwelling place. Here are some common housing expenses.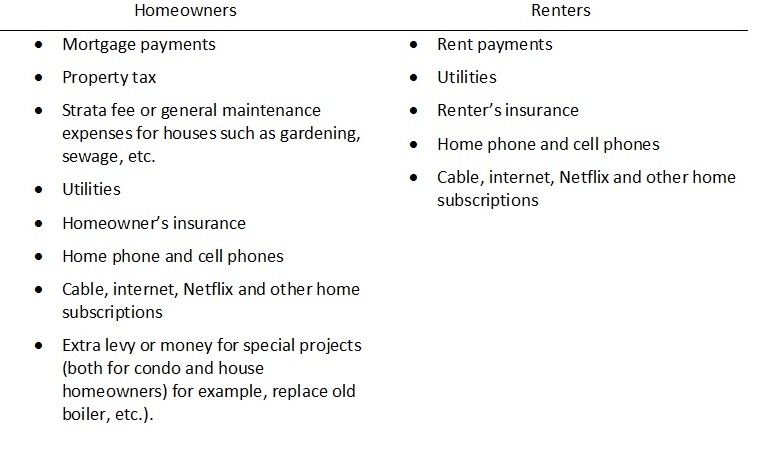 As you can see, when you add all these up, housing cost is definitely way more than just mortgage or rent. A quick glance will also reveal that homeowners have more expenses than renters. So why would anyone want to own? Well, many hope that home value would go up or appreciate (building equity) and that would compensate for the extra expenses (and perhaps extra work).

You could go on further breaking down each expense and see if you can reduce each one. For example, shop for a great mortgage rate. Do this yourself in addition to relying on a mortgage broker/specialist. While a broker or a mortgage specialist may be good, they are not you. You have your best interest at heart. Get all the information, then make an informed decision. Don't just trust someone else's work without evaluating it. Did you know that you are able to negotiate a rate (by yourself) with your bank and you may get an even better rate than what's offered by a mortgage broker or a mortgage specialist? This is assuming you have been a loyal customer and you have a good credit score.

The same principle applies for rent. Look around, compare prices, know your options. For example,
• are you paying more to compensate for location, or a furnished place,
• is the extra money you paid worth the extra features you are getting, etc.

If you need help evaluating your housing expenses (or any expenses), take advantage of my free first assessment meeting. Effie[at]PrudentMoneyCoach[dot]com or (six zero four) 728-5139.

To unsubscribe from future newsletter, send me an email with title "Unsubscribe."