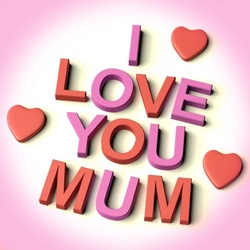 Image courtesy of Stuart Miles at FreeDigitalPhotos.net.

Hello again! Here we are in May 2015; we have gone through 4 months of 2015. This month many will be celebrating Mother's day (Sunday, May 10, 2015) and enjoying a long weekend (Victoria Day).
So, if you are going to honour your Mom this Mother's Day, what do you have in mind? Will you go out for lunch or dinner with her? Will you cook for her? For some ideas on what to do with your Mom, you can google "Mother's Day gift ideas" and you will get a lot of ideas.
You probably know that you don't have to spend money to show your love for your Mom. Some moms actually prefer not to add any more things to her already cluttered home. If you still want to buy something for her and she prefers no additional things/clutter, you could probably take her out for lunch, dinner, dessert, coffee (depending on your budget) or get a gift certificate or gift card, or pay for her vacation, or ask her what she really wants. It'd be like another birthday.
Moms, if you are asked what you want, do tell them. Don't make it hard for people who are trying to please you. Better yet, start thinking about what you need and want. Always have your wish list on paper or on your phone, so not only will you not go shopping aimlessly (think targeted or purposeful shopping), but when you are asked what you would like, you have some ideas.  Your list may include money, which can be used to pay down debt, to save for retirement or college fund, for vacation, or for purchasing big items such as car, washer, dryer, etc.
For those who are in debt, you should prioritize paying down your debt instead of accumulating more "stuff." If you have no debt, think about your long-term goals such as retirement, kids' college fund, etc. Or perhaps you have always wanted to go for a vacation. Start saving for it. If you receive any money, put it aside. If you receive any unwanted gifts, perhaps you could re-gift them or sell them and put the money towards your financial goals.
Bottom line is, whether you are the one who wants to give a Mother's day gift or a Mom who is about to receive a Mother's day gift, think carefully before spending (or asking someone to spend) your (or his/her) hard-earned money. If you still have your Mom with you, go visit her or call her, not just on Mother's day, but do it regularly on other days as well. If your Mom is no longer with you, think of other older women who have influenced your life positively and thank them. If you are blessed enough to be called "Mom", thank God for this opportunity and use it well. Here is a quote I would leave with Moms.
"Train up a child in the way he should go;
even when he is old he will not depart from it."
Proverbs 22:6 (ESV)
Happy Mother's Day!