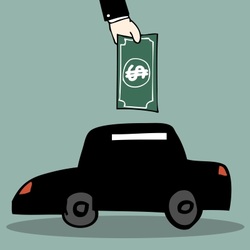 Image courtesy of Nongpimmy at FreeDigitalPhotos.net.
It's summer time and many of you will be taking a road trip, either using your own car or renting one. If you will be using your own car, you are probably busy getting the car ready: changing the oil, checking the tires, etc.
Have you ever been to a shop for an oil change and then were told that your car needs this and that? Well, that happens to me sometimes! I used to think that car repair shops were just trying to get more money out of me. While it may be true for some shops, I believe some shops actually genuinely care for cars and want to offer the best maintenance schedule to prolong the car's use.
My dad takes good care of our family car. He used to work for a car company which allowed him to use a company's car as our family car. My dad could bring the car to the company's shop for oil changes and other services for free. This ensures that the car is well-maintained (because the car still belongs to the company). My dad learned that by doing a good maintenance, the car would last longer and it would run at its best. When it had to be returned to the company, it would be in good shape. Or, if my dad decided to buy it later (after the benefit period ends), he would know that he'd be buying a good car.
So what's my story? We currently drive an old Japanese car (old as in more than 10 years old). It is well maintained and it runs really well. It is a very reasonable car. We take it to shop for oil changes and regular maintenance and repairs. There are not many electrical components in it so when one part breaks, that's all that needs to be replaced. My previous car (more luxurious), while very comfortable and had lots of electrical knick-knacks, was pricey when it came time for replacement. Because many parts were connected together, that meant that when one part is worn out, other good parts may have to be replaced too because they are all connected (one piece).
Anyway, you may be wondering what are the regular maintenance and repairs for an old car. From my experience, this may be replacing front/rear brakes, replacing timing belt, replacing water pump, tune-up, replacing tires and others. Your mechanic can tell you more relating to your specific car.
Recently I went in for one of those regular oil changes. The front-desk staff told me that upon inspection, my car needs a rear brake replacement (only 15% left), tune-up and emission service. If I do all the recommendations, it would cost me around $1,300! Shocking! Recognizing that indeed it is a large sum of money, he recommended that I get the brakes done first, which costs almost 1/3 of it.
A good mechanic will tell you what needs to be done, and which one to prioritize first. After all, what good would a business get if the clients have no money to pay? So I asked what each service would do to the car. Answer: brakes would be for safety; tune up and emission would increase the car's efficiency. So I decided safety comes first and had the brakes done.
Since it is a big amount of money, I asked if his price is competitive compare to other shops (in the past I had shopped around and checked his price against dealer's and other shops – and he knew about it). I also asked if there are discounts to be applied. (I had been coming to the shop quite regularly, for about 2 or 3 years by then.) He offered me a 10% discount. (It never hurts to ask.) Digging into my memory deeper, I remember having the shop's membership card which contained some coupons for services done. So he tried to calculate which would benefit me most: his 10% discount or my coupons. As it turns out, the coupons would save me more money.
My point is that it never hurts to ask for a discount. The worst answer you could get is "No discount." If your goal is to save money, ask for a discount (of course without compromising the quality of work). If you get it, then take that saving (say you save $50), and put it into your emergency fund account (or your other financial goals account).
That's all for now. Have a good summer and enjoy the sunshine!