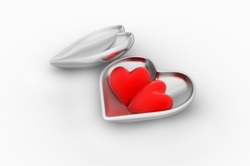 Image courtesy of CuteImage at
FreeDigitalPhotos.net
.

It's February! Some of you will celebrate Valentine's day on February 14th; some will celebrate Chinese New Year beginning with the new year's eve on February 18th; and those in British Columbia will have their Family Day on February 9th. If you live in North America, you will find that there are always occasions to be celebrated each month. Let's see:
January: New Year's day
February: Valentine's day, Family Day (B.C.)
March: Spring break
April: Easter
May: Mother's day
June: Father's day
July: Canada day
August: B.C. (British Columbia) day
September: Labour day
October: Thanksgiving
November: Remembrance day
December: Christmas.
Add to that list your birthday, anniversary, graduation, wedding, summer, spring break, Christmas break, etc. With so many reasons to celebrate, it would be easy to spend lots of money and not even realizing it. There are so many ways to leak out your money. So, does that mean we should stop celebrating then? I don't think so.
While it is acceptable to celebrate special occasions, it is not healthy to continuously celebrate. In fact, if you do that, you would lose appreciation of a celebration. Celebrations would become "just regular stuff", not a "special occasion" anymore. If you eat potatoes daily, then ice cream would become a special treat. But if you eat potatoes and ice cream daily, then the ice cream is not really a treat anymore.
So what to do? I propose that you carefully select occasions that you would celebrate. Pick one or two a year. You don't have to pick the same ones every year. For example, if you are a parent with two school-aged children, you may pick Christmas and one birthday. The kids would alternate their birthday parties. Or, the kids may want to forego their birthday parties for a special summer or winter trip.
Do you have other suggestions? Let me know by leaving your comment or send me an email. Enjoy February!