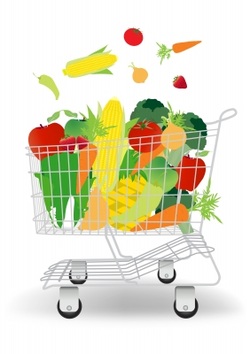 Image courtesy of KROMKRATHOG at FreeDigitalPhotos.net.
For a short-cut on my points below, here they are.
1. Make a Meal Plan, Consider your Cooking Time Limit
2. Shop Pantry and Freezer First
3. Make Shopping List
4. "Shop" through Flyers
5. Bring your Coupons and your Flyers (for Ad Match)
6. Eat First before Going Shopping
7. Know How Much Space you Have in your Freezer, Fridge & Pantry.
8. BYOB (Bring Your Own Bags)
9. Make a Note or Memorize the Unit Price
And below is the start of my September 2015 newsletter. Enjoy! :)
Almost everybody shops for groceries because everybody has to eat. It is common knowledge that eating out costs more than cooking at home. Usually, cooking at home is healthier too. In my 10+ years of doing grocery shopping for our family, I find that I can save money if I know how the system works.
1. Make a Meal Plan, Consider your Cooking Time Limit

I don't know about you, but I have failed so many times in the past trying to follow my own meal plan. I did meal plans because I don't want to be stuck at 4 or 5pm. And because I am a picky eater, I only plan for meals that I feel like eating, with no regard to the time it takes to prepare the meal. Big mistake!! So, can you guess what happened? One day I started my dinner preparation, I realized "Uh oh…. between picking up the kids, swimming, and night class, I won't have enough time to cook this meal. The chicken needs to be in the oven for 1 hour and I only have 30 minutes left. Aarggghhhh……"
Note to self: don't plan for a time-consuming dinner on the nights when I have to drive the kids around, pick up items, go to appointments, etc. It'll be unrealistic & I may end up with drive-through or take-outs. My meal plan will be wasted (and then I hate myself). I will end up with take-out or drive-through food, and feel bad about wasting money (and perhaps feel bad about feeding junk food to my family). On busy nights, I should use simple meals, or left-over, or purposely freeze up a portion of meals a few days before. On a side note, thawed frozen meal may not taste as good as freshly cooked meal. I discovered that with at least one picky eater at home, I should limit on serving thawed/re-heated frozen meal.
By the way, you should also have last minute, easy dinner menu for emergencies. One of our emergency menu is ramen noodle. It is not the most nutritious, but it is fast. I usually add fresh or frozen vegetables, and eggs to make it more nutritious.
Your meal plan can be as easy or as elaborate as you like. For me, I like to plan a dish of meat, a dish of vegetable, and a pot of light soup to go with rice. I usually plan for the meat (or protein) dish only. My soup and vegetable will depend on what is in season. Here is an example:
Sunday: fried fish
Monday: baked chicken legs
Tuesday: meatloaf
Wednesday: scrambled eggs with prawns
Thursday: roast pork
Friday: tuna casserole
Saturday: left-over
2. Shop Pantry and Freezer First
If you are quite forgetful like me, you might have forgotten meat you bought last week (or last month), now sitting in the freezer. It's time to refresh my memory by checking on the inventory both in freezer and in pantry. After I have my meal plan, then I check what I already have. My goal is to consume what is in my pantry and freezer first before buying new food. I don't like having to throw away food in my pantry because it has expired.
3. Make Shopping List
Now that you have your meal plan and you have checked your freezer and your pantry, it's time to make a list of things you need to buy.
4. "Shop" through Flyers
Do you get flyers inserted in your community newspaper? If you do, go through the flyers to check if items you want are on sale in any specific store. Circle the items in the flyers. Why? See no 5.
5. Bring your Coupons and your Flyers (for Ad Match)

Did you know that some stores honour flyers from other stores? Walmart calls it Ad Match. Here is how it works. For example, if Save-On is having a promotion and is showing Goldfish crackers (200 grams) for $1.88 in its flyer, then bring in the flyer to Walmart, show it to the cashier and pay Save-On price even if Goldfish is selling for $2.99 at Walmart. To my knowledge, Walmart, Superstore, and London Drugs do Ad Match program. So look through flyers diligently. One time Save-On had an anniversary sale and was selling Dawn dishwashing liquid for $1/bottle (limit 4 bottles) and I had a 50-cents coupon. When I shopped at Walmart, I bought 4 bottles for $4 minus 50 cents (coupon), for a grand total of $3.50 (plus taxes). Regular price for Dawn dishwashing liquid is $2/bottle (plus taxes).
Do you clip coupons or have electronic coupons? Make use of them if you really need the items. Otherwise, forget the coupons. Don't buy an item just so you can "save" money by using the coupon.
Some stores sell almost-expired food at discount. Be careful when buying food items on sale. You probably don't want to eat expired food.
6. Eat First before Going Shopping
You probably already know that shopping with an empty stomach will result in buying more food than necessary. So eat your meal first, then go shopping.
7. Know How Much Space you Have in your Freezer, Fridge & Pantry.
Once I saw a good deal on meat (I can't remember the price or the type of meat) and I bought quite a bit. I left some meat in the fridge because my freezer was full. I thought I would cook the meat tomorrow or the day after. Well, I got busy and the meat sat for almost a week! I ended up throwing it away because it smelled bad by the time I was ready to cook it. What a waste! Lesson learned: I should not buy meat (or any frozen items) more than my freezer allows.
8. BYOB (Bring Your Own Bags)
Some stores now charge 5 cents for each plastic bag. It may not seem much, but if you could bring your own bags and save money, why not do it? Let's say you do big grocery shopping bi-weekly and you need 20 bags each trip. 20 bags x 5 cents/bag x 25 weeks = $25/year. Put $25 in RESP (Registered Education Savings Plan) for your child, and it becomes $30 (with additional $5 grant from government)! And all it takes is bring your own bags.
As a side note, I once saw a friend took out a rolled cloth bag from her small purse to carry her kids' coats at church. What a smart idea! A cloth bag that can be rolled up and tucked into a purse. Carry an emergency bag (or two) in your purse that can be used for coats, last-minute grocery shopping, or whatever.
9. Make a Note or Memorize the Unit Price

Do you ever get confused debating which package is cheaper? If you know the unit price of your item, it will be easy to pick. Stores sometimes show the unit price on their shelves. The more often you buy an item, the more likely you will know its price.
Wow…. does it seem like a lot of work? All these just for grocery shopping? Well….errr….yeah. Time = money. If you want to save money, you need to spend some time looking for ways to save money. Now, if you want a concrete lesson on how much money you have saved, may I recommend that you take the money saved and put it in a jar (so it's as if you "spent" the money) and watch it grow. When your jar is full, use the money for one of your financial goals (trip, big purchase, etc.).
Having said all of the above, I would like to say that this does not mean I am a master at saving money or that I always save money every time I go shopping. Like everybody else, there are times when I don't have time, or I am too tired or lazy to make meal plans, look through my freezer and pantry, and do Ad Match shopping. But on the days that I do, I enjoy watching my savings grow.
Like what you read? Why not sign up for my monthly newsletter/blog? You may unsubscribe at any time by sending an email with title "unsubscribe" to Effie(at)PrudentMoneyCoach(dot)com. Click here to subscribe.