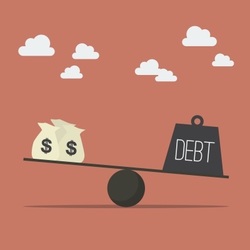 Image courtesy of Sira Anamwong at FreeDigitalPhotos.net.
In October, I wrote about how everybody should have a budget because it's good for accountability, achieving financial goals, spending your money well and for a peace of mind. I received a positive feedback and was informed that there is an expectation for next post about budgeting. Well, after spending a few days writing and editing, I finished the budgeting newsletter, took a look at it, got a feedback from my proofreader, and decided perhaps the full writing should be published in January. With Christmas approaching, many people may not be in the mood of reading or learning about budgeting. But, since I promised I would write about budgeting for my next post, I will write a brief version of budgeting or wise spending – something shorter and easier to read – and perhaps it will be useful for you as you do your Christmas shopping. Wise spending involves knowing your incoming and outgoing, distinguishing between your needs and wants, and having a discipline (or strong determination) to stick to your plan.
Know your Incoming and Outgoing
A good starting point is to know how much money you have, because then you will know how much you can afford to spend. Write down all your income on a piece of paper or list them in your spreadsheet. If your income fluctuates, it is even more important to keep a record. You can use your lowest income or your average income as a starting point for your budget.
If you are an employee, you can use your net take home pay as your income. If you are self-employed, make room for taxes, and other deductions such as Canada Pension Plan (CPP), Employment Insurance (EI), and if you live in British Columbia, you must pay Medical Services Plan of B.C. (MSP). Plus depending on the type of protection you wish to have, your pay may also be deducted for extended health care premium, life insurance premium, long-term disability insurance premium, and the list goes on. So you must know your gross income, your taxes and deductions, and finally, the net spendable income (money available to you).
An easy way to know your outgoing is to use cash or cash equivalent such as cheques. Use a notebook (or a spreadsheet) to write how much money you have at the beginning of your pay period. As you pay your expenses or spend money, subtract the amount from your income. This is the easiest way to keep track of your outgoing. When you deal with cash, you will feel the "pain" when you have to hand over your money to others and be aware of outgoing money, especially when you see that your cash is depleting.
Distinguish between Needs and Wants
This should be an easy one, or is it? I am surprised to find out even elementary school-aged children know the difference between needs and wants. If everything is a need, you probably will never have enough money. Food, clothing, and shelter are all needs. Smart phones, candies, and recreation are wants. Because we live in a developed country, sometimes the wants become needs. Advertising industry helps enforce messages that you deserve this or that, or that you should get what you want, or that you should be happy and feel good about yourself, etc. They will advertise as if you NEED everything. Do you really need (an elaborate) Halloween or Christmas decoration? Big, fancy dinners? Unlimited data on your smart phone? Do you have to eat out (or have take-outs) 5 times in a week (pizza, sushi, etc)? Do you really have to buy the most expensive gifts you can afford to show your affection to your kids or other adults? For most people, the answer to all those questions is "no."
Stick to your Plan
Or else you won't have anything left. Before you go shopping, invest some time in writing down what you need to buy. By spending some time thinking about your purchases and checking your cash, you will not be as impulsive in spending. Leave your credit cards at home if you have a bad habit of not paying off the bills in full each month. Once you have your list, go shop and stick to your list. You should probably set up a consequence for yourself if you deviate from your list.
Buy only what you need. If you see something else you want but it's not on your list, go home, sleep on it, and re-think tomorrow. If you still want it, do a research, see if you can find a better deal. Sure it's inconvenient, but it may save you money. If you buy something you don't need, even if it's
on sale
, you're not spending your money wisely.
If you know you are prone to shopping, avoid shopping malls or shopping areas (including online shopping) when you do not need to buy anything. Avoid temptation.
I will end my post here for now. Remember that by knowing your incoming and outgoing, distinguishing between your needs and wants, and sticking to your plan, you are in the process of spending your money wisely. If you need help setting up your spending plan (budget), feel free to
contact me
.