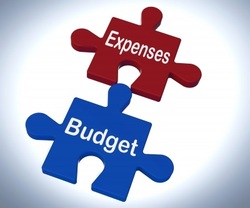 Image courtesy of Stuart Miles at
FreeDigitalPhotos.net
.
Everybody should have a budget. Really? Yes. Why? Because time and money are finite resources. Unlike money, time must be spent. Everybody has 86,400 seconds in a day to be spent. You may have heard a phrase "save time" but it does not mean you can keep the 15 minutes you save today and use it tomorrow. You can choose to do something else in the 15 minutes you "saved", but you must use up the 15 minutes TODAY. Money, on the other hand, can be stored up for future use if you choose not to spend it now. So here are my reasons why one should have a budget.
Accountability
Whether you are the one working or your spouse/partner, you should be accountable for how you use the money. Often I hear couples arguing about money – not because they hate each other, but because one spouse does not know how the other manages the money. When one spouse inquires, sometimes it sounds as if he/she is accusing another of money mismanagement, of being an incompetent money manager, or of being a spender. So the other spouse ends up hurt and switches into defensive mode; hence the argument. And perhaps the argument is not even about money anymore; past issues could be brought up, wounds opened, and it just gets ugly.
If/when you have a budget and both spouses work together, they can keep each other accountable, encourage each other to stay focused. No more guessing game of where our money went.
For singles, you don't have a spouse to answer to, but I think you would still be interested in knowing where your money went or if you will have enough this month.
Achieving your Financial Goals
When you have a budget, you can work out a plan on when you will achieve your targeted financial goals without going into debt. For example, you want to go to Europe and it costs $5,000/person. If you can save $100/month, it will take you 50 months (4 years 2 months) to achieve your goal. If you want to travel sooner, then you need to increase your savings by either cutting spending on other areas or increasing your income. When you and your spouse have common goals and a budget, you are less likely to fight about money. And when you do, it will probably be easier to solve because everything is on paper (or on electronic). The numbers speak for themselves; no need to argue or accuse.
Spending your Money Well
By having a budget, you know where your money will go. What's the other option? You don't know where your money went. Now, having set up a budget, it doesn't mean that you HAVE TO spend all the amount in that category. For example, if you have $100/month budget for entertainment (or $25/week), and you only spent $75, you can put away the $25 towards your emergency fund or next month's entertainment. You don't have to spend all $100 this month. It may be obvious for some, but not so obvious for others.
Peace of Mind
By having a budget, you will have a peace of mind, not stressed out; unless you find out that you are short this month. But even in this scenario, you know beforehand that you are short in cash and you should find a way to eliminate the shortage: by spending less, earning more, or both.
I will post next time on how to set up your budget.